Welcome to Puja Promoter's Punyagiri Township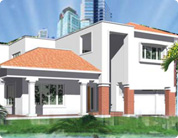 The land will not grow, but the prices of the lands will grow. The prices for lands are touching the peak of the graph. We cannot expect the rates of the land will come down, that is because of the fastly growing population. Forget about constructing a house, a middle class people cannot even dream to buy a land. In such a a situation we make you initiate the plan for your own land.We Puja Pramoters are there for you.


Punyagiri Township
We make you tension free and hassle free to have a own house, even it is a small house, but your own house. We will make your dream home come true.